History and information about Akela, New Mexico by Las Cruces, Deming and Hatch.
Bowlin's Akela Flats Trading Post is located on the N side of Interstate 10 (Exit 102) about 20 miles E of Deming and 30 miles W of Las Cruces. I found myself out of gas and the Exxon station sure was a welcome sight! I really enjoyed this huge trading post mostly because they carry a line of clothing that I just recently found in Winslow, Arizona! : ) I'm not much of a shopper so this kind of store is right up my alley! They even had a dressing room at the back! I'm sure a few of my girlfriends are rolling their eyes at my hillbilly ways! I browsed quickly around their assortment of desert treasures, clothing, and grabbed some food for the day while I gassed up outside. Good thing the pumps weren't busy as that quick trip turned into about 10 minutes and a quick $60! Of course I stopped in again when I was out there a few weeks later and this time limited myself to a white sage stick! They really have a fabulous collection of southwestern and native art, jewelry, and souveniers. And the staff has been lovely!
Also at this exit to the W of Bowlin's is the Apache Homelands Entertainment Center which has a sign on it that says Apache Homeland.
I have not visited this yet and wondered what the heck it was. It sounded like a place they would take you if you got busted at a checkpoint as the only reference that came to my mind was Homeland Security. And you know how there's all the border stops that aren't along the border in the desert – must be the place they take you when you get into trouble at one of those, at least that's what I'm thinking to myself – don't really need to stop there! Ha!
It actually is 30 acres of land owned by the Fort Sill Apache Tribe. It sure looks like I should have stopped though! Their website says it's a 24 hour diner and smoke shop (wow the food on their website looks good if you're not on a diet) and gaming coming soon. I was thinking that I could live out here but that's a long way to go to get milk because I didn't see any at Bowlin's! However I saw the cooler in the snack shop and I'm pretty sure that's milk I spotted in small bottles – hot dog – I don't need a lot – just enough for a pot of coffee! I really enjoy learning about the places I explore and I'm still chuckling to myself about the "Homeland Security" building!
I had spoken to someone about land out in this area when I was at the tax sale in May 2018. They were from Las Cruces and looking for land in the Akela area and mentioned they had heard the Indian Casino in the area was making headway. They had also been at the tax foreclosure sale in Las Cruces the day before the Deming sale and said prices were super crazy!
I had no idea what they were referencing about the casino so I asked a few friends in the area which led me to a news article about the tribe opening a temporary bingo hall here in 2008 and the governor ordering the state police to block access to the building. They were later issued a violation by the National Indian Gaming Commission (NIGC). It has something to do with a federal regulatory act that largely prohibits gambling on lands acquired after Oct. 17, 1988 and this parcel was acquired in 1998. They appealed.
In January 2017 the tribe filed a motion to compel the NIGC to comply with an Order of the United States District Court which requires the NIGC to reconsider a 2015 Decision and Order in which the NIGC determined that the Fort Sill Apache Tribe was not eligible to conduct gaming on its reservation. But that's all I was able to learn so far about the casino.
I also learn that in September 2017 the Fort Sill Apache Tribe was awarded an $800,000 grant from the federal government to help build a 3000 square foot convenience store and fuel station at its property in Akela about 30 miles W of Las Cruces on Interstate 25.
The tribe plans to pitch in additional revenue toward the project; the exact amount hasn't been finalized, but it could range up to $1.5 million or more, according to a tribal officia.
Las Cruces, population 101,759, is a beautiful city and the county seat for Dona Ana and the 2nd largest city in New Mexico. It sits 60 miles E of Deming and 40 miles N of of El Paso, Texas. I spent some time on their Economic Development website and see they have quite a bit planned for the future including renovating the Las Cruces airport for daily regional commercial flights and a commuter rail to El Paso. The federal government is the major employer with the nearby White Sands Test Facility and White Sands Missile Range. I've met several people who work for US Customs and commute daily from Las Cruces to the Columbus border crossing 35 miles south of Deming.
My first glimpse at the white sands in 2003!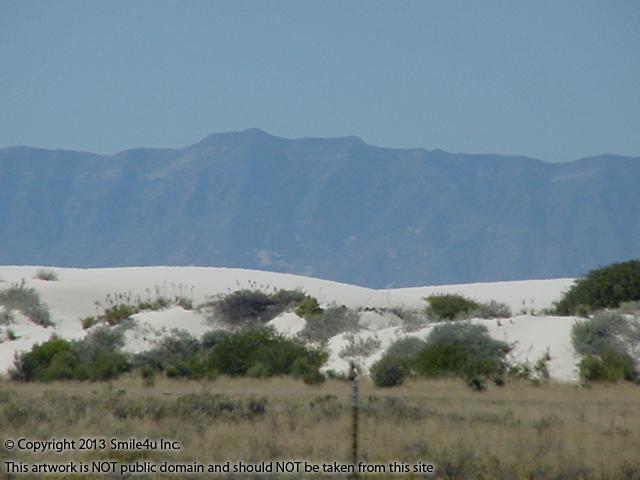 Las Cruces is the home of the New Mexico State University and is a very agricultural area extending to Hatch known for their world class chili's. Hatch holds their Chili Festival Labor Day weekend and attracts over 30,000 visitors who come to sample the famed chili recipes.
I snapped this chili crop growing in Deming!
Recreation and fun in the area:
In May 2003 I traveled the wrong way from Alamogordo to Timberon for my first time using NM506 which takes you thru an old military firing range where signs let you know not to leave the road because unexploded devices may exist. And that's where I saw an oryx for the only time in the wild. 93 African oryx were introduced here in 1969 and they've grown to about 2000 today.
They weigh on average up to 450 pounds and stand 47 inches tall at the shoulder. Their horns average 34 inches long! Their distinctive black and white markings enable them to hide among desert shrubs. That was one of the best wrong ways I ever took!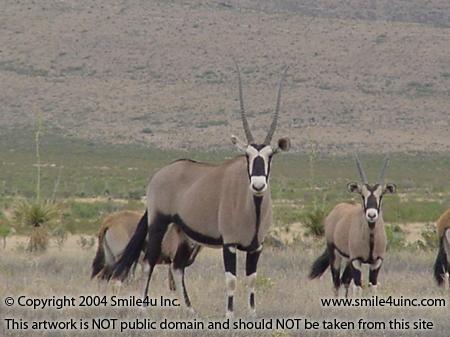 Native American ancestors have been found in the area dating back to 9000-6000 B.C. The Fort Sill Apache Tribe are descendents of the Chiricahua Apache Tribe whose leaders include Cochise and Geronimo. The Chiricahua Mountains are a huge range that sits about 90 miles W/SW of Deming just over the Arizona state line. It was created to protect the rock pinnacles that rise hundreds of feet into the air. The name is believed to originate from the Opata name for the mountains, Chiwi Kawi, meaning "turkey mountain" which were once abundant here.
In 2012 I visited Cochise Stronghold in the Dragoon Mountains which sit about 165 miles W of Deming on the west side of the Chihuahuas. It is named after the legendary Chiricahua Apache War Chief Cochise who led his people in their attempt to retain their homeland.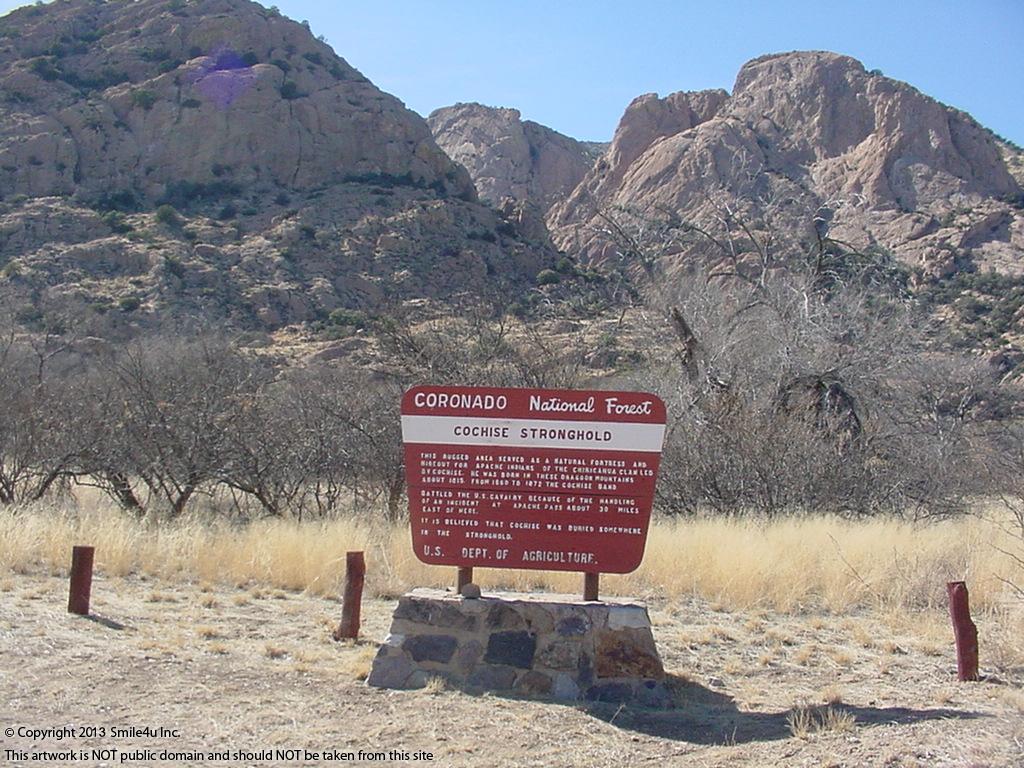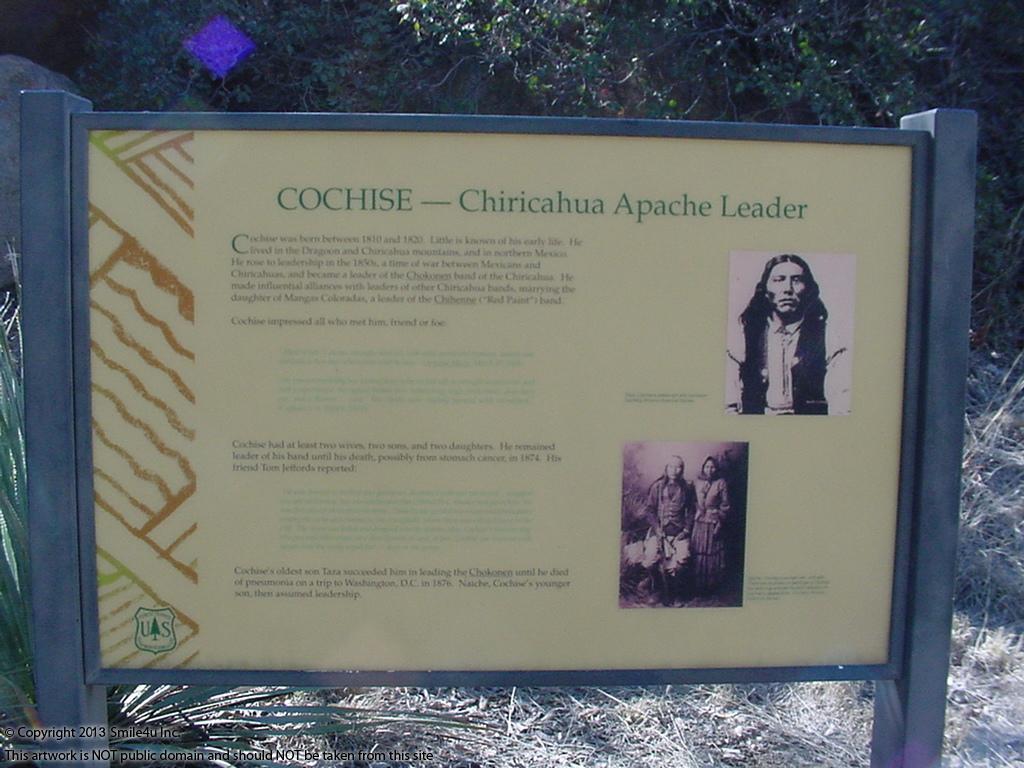 In October 2015 I hiked into a canyon that was south of Cookes Peak and saw some fabulous petroglyphs in a cave!
Rockhound State Park sits on the slopes of the Little Florida Mountains SE of Deming. It offers trails, unique geology, wildflower displays, and a peaceful campground. Rock hounders can hunt for quartz crystals, geodes, jasper, perlite, and many other minerals. Rockhounds are allowed to take home up to 15 pounds!
City of Rocks State Park sits between Deming and Silver City. The large pnnacle rock formations rise up to 40 feet. It offers camp sites and hiking trails.
In February 2018 my boyfriend Buddy and I stopped by Lake State Park which sits 69 mile NE of Deming by Hatch on the Rio Grande. This fisherman was a good sport posing with his catch. He said he worked at the Park and spent his lunch hours fishing – right on!
In April 2018 I stopped by Bill Evans Lake which is a 62 acre lake between Silver City and Cliff. It is the home of the biggest bass ever caught in New Mexico at 15 lbs 13 oz and was 26.5″ long in 1995! This nice fisherman held up his catch for me and another let me know he was using rubber worms.